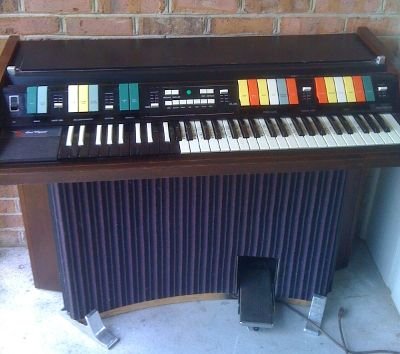 Isn't she adorable? I have a few more pictures in my wallet.
We have a history, she and I… Okay, so it's only been two months–two glorious months— since she came into my life, but what can I say, I love her madly. I know I've already made that abundantly clear. Today, though, I attempt to justify writing like a thirteen-year-old in a Hello Kitty journal about my Wuvable Wucy.
I guess I should start by explaining how she got her name. If you didn't already know, it's a common practice among many musicians to name their instruments, and it's not just the hopeless geeks like myself that do this. Famous musicians like B.B. King, who names all his guitars Lucille, partake in this sacred tradition. Don't go thinking that the name Lucy is an homage to the great blues player; such an act would be both tragically misguided and laughably delusional. Lucy came by her name honestly and I can prove it. Listen:
Uncanny, huh? As you may have already predicted, I owe it all to Claire. When we finally got Lucy up and running, we went a little nuts and started randomly flipping switches to see what each sounded like.  Claire eventually flipped the "Sitar" switch and immediately recognized the legendary Beatles tune. I began to plunk out the first few notes and added the vibrato effect. She was  undeniably right, it's about as close to the original as one could get. I would like to say that I named her Lucy on the spot, but once again, the obvious evaded me. Claire, who had probably been waiting patiently for me to have the epiphany, finally suggested it days later to save Lucy from the fate of bearing a title from my laundry list of much less suitable possibilities (which included Barry and Organstein).
Before she was properly named but while she was still marinating in a fog of poisonous gas, (long story, read it here if you haven't already) I researched this model, which, by the way, is a Hammond Piper. Surprisingly, even the mighty internet doesn't have a ton of information on it. I found a few Pipers for sale, a few more free ones, a couple of thin reviews, and a video or two but not a whole lot of substantial material. The most informative thing I came across was this article in which the author breaks down a lot of the basics about the organ and its history. I especially like his commentary regarding Duke Ellington's synopsis. One thing is pretty clear to me: the Piper is essentially a novelty organ, not a "serious" organ. This fact doesn't diminish its value one iota as far as I'm concerned. The Hammond Organ Company designed this organ to be fun and easy to play and they delivered generously on both fronts.
Take, for example, Lucy's retro-riffic appearance. She's simply dripping with the musk of a simpler time. The upholstery on the front panel could have been stripped right off of your grandmother's sofa. The bold though slightly faded colors of the switches remind me of those huge boxes of assorted crayons from elementary school. For the first few days she was inside, I became the proverbial kid in the candy shop, eagerly flipping each button, lever, and switch that teased my curiosity. They practically beg for it. The real kicker, though, is what these switches do. Each synthesized version of the various instruments sound nothing like the actual instrument, but if you don't think the sweet sounds that pour forth are the next best thing to a time machine, you probably own a DeLorean.
Speaking of sounds, did I mention how many different ones she can produce? Consider this: the treble portion of the organ has twelve different instrument settings: piano, harpsichord, guitar, sitar, marimba, banjo, trumpet, trombone, violin, accordion, flute, and dynamute (or muted trumpet, supposedly). "Twelve?" you ask, undoubtedly crushed with disappointment. "That's it?" Twelve. That's it. Well, twelve individual instruments. You see, the real source of versatility here is that you can combine each instrument with any number of other instruments. Still not impressed? Put on your math hats. How many total combinations are we talking about here? To get the answer we need to use a factorial, which looks like this: 12! This means we multiply 12 x 11 x 10 x 9…Anyone know what number we get? Anyone?
479,001,600. Almost half a billion different variations. Half. A. Billion. Now you know why we use an exclamation point when we calculate a factorial.
To be fair, this ancient organ cannot truly generate millions of unique and varied sounds; in fact, the large majority of them are probably moot. Adding guitar to a combination of eight other instruments probably won't alter the sound in any significant way, if at all. Looking at the forest for the trees, though,  there are still probably at least a thousand flavors that are worthwhile and it's easy to add subtle shadings to each one. If nothing else, I won't run out of combinations to sample any time soon. Or ever.
The bass portion (the keys with the inverted color scheme) is much less exciting, with really only two different instrument variations, bass and string bass. There are  flute and violin options to play over the bass, but I find these a little distracting. As anyone who has ever been in a band will tell you, bass doesn't have to be fantastic, it just has to be present.  It still packs a decent punch, (enough to annoy the neighbors in any case) so I can't complain.
All this is well and good, but nothing that couldn't be done better on a generic synthesizer, right? Unless said synthesizer has a built in Leslie, no, it can't. For those of you who aren't already familiar, a Leslie is basically a rotating speaker. They've been regularly used on various instruments by countless bands since the 60's and are standard on any Hammond. It's the Holy Grail of organ components and the reason the Hammond Company was able to separate itself from imitators. It endows Lucy with glorious capabilities as controllable repeat rates and the vibrato effect I used for "Lucy in the Sky with Diamonds."
Two other features owed to the Leslie are the autochord system and the percussion generator. These are fun little diversions, and they ramp up the already ample kitsch factor. That said, these really aren't the most practical components, but that's not to say they aren't worth messing around with. Autochord only works in the bass section and it essentially just alternates between two notes. This is fine, but ideally it should alternate between at least three thus enabling a complete chord. You can control the rate at which these notes repeat, but ultimately I find the default bass setting much more accommodating. The drum machine has eight different preset beat patterns and also has an adjustable speed. If I could change it, I would want an interface that allows control over the individual beats instead of just the tempo, but the beats are varied and simple enough to fit in smoothly when desired.
It's hard to explain why I'm nostalgic for an era I wasn't even present for. The sublime ringings and murmurs of yesteryear resonate deeply with me, and Lucy revives them for me every time I snap a lever. There are plenty of elitists out there who would write her off, citing that synthesizer technology has advanced light years since the 70's, that the Piper's capabilities are primitive at best, and that Hammond has made this antique obsolete at least a dozen times already. I would remind them that having the best equipment available isn't every musician's aspiration. New and improved gear doesn't and will never amount to improved musicianship, sharper abilities, or increased enjoyment. It takes a unique bond between the musician and instrument to truly reveal the potential of both, one that would drive the musician to, say, labor over naming his instrument. Speaking from experience, it's a bond that's definitely worth seeking.